Recently, a few of our new Polycrubbers have said that they'd love it if their Polycrub came with a basic guide to growing. This got me thinking.
North Roe school, one of three primary schools in our community of Northmavine, Shetland, always come up with a fantastic enterprise project each year to raise funds for the school. In the past they have created calendars with Shetland dialect sayings, designed greetings cards and even produced a really popular peerie recipe book.
I approached them to see whether they would be interested in helping create a starters guide to growing undercover. They thought it would be a great project and we teamed up with Tom Morton, development officer at our parent company, Northmavine Community Development Company. As a journalist and writer, Tom was well placed to help out.
The bairns relished the challenge and set about interviewing Polycrubbers in Northmavine to find out more about their experience of growing in a Polycrub. They also gathered hints and tips and took photos for the book. Within two short months the book was published. It's called 'Undercover Gardening: A Polycrub Guide to Sowing, Planting, Growing and Harvesting'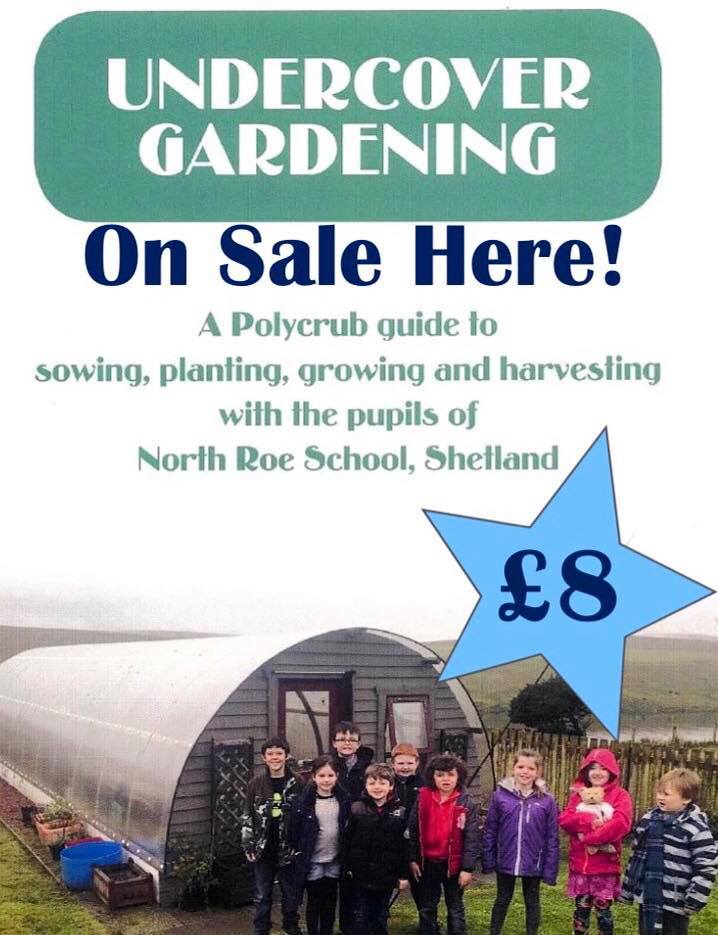 The book will accompany every Polycrub kit sold from now on and the North Roe pupils are selling a limited number as part of their enterprise project to raise funds for the school. The book has been really well received and has attracted lots of very positive comments from folk.
It's been a delight to work with such motivated, enthusiastic bairns and their Head Teacher, Hannah Irvine. Hannah was incredibly supportive of the project from the beginning and the pupils have worked amazingly hard to produce the interviews in such a short space of time. I would just like to say a huge thank you to everyone at the school.
Pupils had a stall at the annual craft fair in Lerwick, Shetland and sold more than 140 copies of 'Undercover Gardening: A Polycrub Guide to Sowing, Planting, Growing and Harvesting'. The book is a perfect Christmas present for growers and is now on sale locally for just £8 at the Ollaberry and Hillswick Shops, Brae Garage and Brae Building Centre in Brae, Plantiecrub Garden Shop and Shetland Garden Co, Lerwick.
Growers outwith Shetland don't need to miss out as they can order a copy from North Roe Primary School
Maree